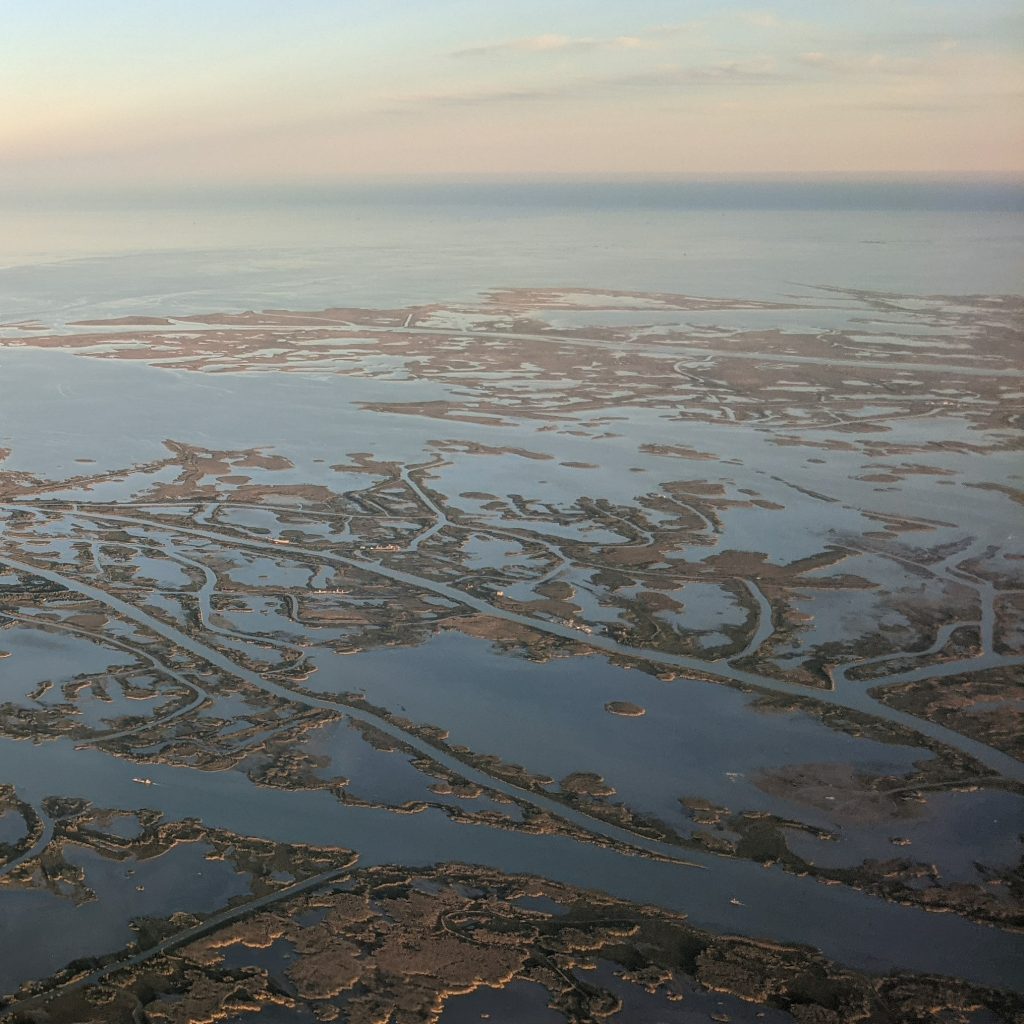 I'm a doctoral candidate in anthropology at the CUNY Graduate Center, studying environmental crisis and state power on the US Gulf coast. My dissertation research examines responses to land loss in southern Louisiana, with attention to planning, extraction, and shifting technologies of land governance.
Email: smoore [ at ] gradcenter.cuny.edu
---
Education
The Graduate Center, CUNY
PhD Candidate, Anthropology, 2015 – Present
MPhil. & M.A., Anthropology, 2020
Dissertation Research: Governing Land Loss on the Louisiana Coast
McGill University
BA (Hons), First Class, 2009 – 2013
Honours Anthropology, minor in Art History. Thesis: "'Taking Up Space': Spaces of protest and neoliberalization in the university."
---
Teaching
The City College of New York, CUNY
Writing Across the Curriculum Fellow, 2020 – 2021
Hunter College, CUNY
Graduate Teaching Fellow, 2016 – 2019
Courses designed and taught: Introduction to Cultural Anthropology, Human Ecology
---
Publications
Moore, Sheehan. 2022. "Images of Loss: Mapping the Future Coast." Engagement, Jan. 7.
Moore, Sheehan. 2020. "Transcontinental Dialogues: Activist Alliances with Indigenous Peoples of Canada, Mexico, and Australia, ed. by R. Aída Hernández Castillo, Suzi Hutchings and Brian Noble (review)." Anthropologica 62(1): 204-205.
Moore, Sheehan. 2018. "Indigenous and environmental water protectors fight to block Louisiana pipeline." Waging Nonviolence, July 16.
NYC Stands with Standing Rock Collective. 2016. "Standing Rock Syllabus."
Choudhury, Suparna, and Sheehan Moore. 2016. "Locating Risk in the Adolescent Brain: Ethical Challenges in the Use of Biomarkers for Adolescent Health and Social Policy." American Medical Association Journal of Ethics 18(12): 1199-1206.
Pavan, Josh, and Sheehan Moore. 2015. "There Is Power in a Union: Building Solidarity against the Casualization of Labour at McGill." Convergence 6: 2-4.
Moore, Sheehan. 2013. "Taking Up Space: Anthropology and Embodied Protest." Radical Anthropology 7: 6-16.
---
Conferences and Presentations
"Teaching Writing through Reading in Anthropology and the Social Sciences." Professional development workshop presented at The City College of New York, Mar. 2021.
"Map as Threat, Planning as Promise." Presented at the University of Pennsylvania EnviroLab conference, Philadelphia, Mar. 2021.
"Untimely Movements on the Louisiana Coast." Presented at the American Anthropological Association/Canadian Anthropology Society Annual Meeting, Vancouver, Nov. 2019.
"Planning Time: Action and Anticipation on the Louisiana Coast." Presented at the American Ethnological Society Annual Conference, Philadelphia, Mar. 2018.
"Decolonize This Museum." Invited panel discussant, Decolonize This Place/Artists' Space, New York, Oct. 2016.
"Precarious Work and the Memorious Commons." Presented at the Inequality and the Commons Advanced Research Collaborative Conference, The Graduate Center, CUNY, New York, May 2016.
"Memory and Movement Building on the Contingent Campus." Presented at the McGill-Queen's Graduate Conference in History, McGill University, Montreal, Feb. 2016.
"Understanding Austerity in Practice." Panel discussion at Study in Action/Études en Action, Concordia University, Montreal, Mar. 2015.
"Protesting Publics: Neoliberal Rhetorics of Space and Hope." Presented at the Space and Equity conference, McGill University, Montreal, Feb. 2013
---
Research Positions
Department of Anthropology, Columbia University
Research assistant for Professor Audra Simpson, Sep. 2021 – Present
Center for Place, Culture and Politics, The Graduate Center, CUNY
Dissertation fellow, 2021 – 2022
Anthropocene River Campus: The Human Delta, Haus der Kulturen der Welt (HKW)
Campus member, 2019
Advanced Research Collaborative, The Graduate Center, CUNY
Student fellow, 2018 – 2019
Climate Action Lab, The Graduate Center, CUNY
Research fellow, 2018 – 2019
New Media Lab, The Graduate Center, CUNY
Research fellow, "Risky Images of Climate Futures," Jan. 2018 – May 2018
Department of Transcultural Psychiatry, McGill University
Research assistant for Professor Suparna Choudhury, Aug. 2013 – May 2018
Department of Anthropology, McGill University
Research assistant for Professors Lisa Stevenson and Eduardo Kohn, Apr. 2011 – Jul. 2015
Students' Society of McGill University
Austerity measures researcher and campaign coordinator, Spring 2015
Canadian Centre for Architecture
Curatorial research assistant, May 2012 – Nov. 2012
---
Awards
B. Altman Foundation Dissertation Fellowship, 2022 – 2023
Center for Place, Culture and Politics Dissertation Award, The Graduate Center, CUNY, 2021 – 2022
COVID-Affected Research Agenda Grant, PublicsLab, The Graduate Center, CUNY, 2020
Bourse de doctorat en recherche, Fonds de recherche du Québec – Société et culture, 2019 – 2020
Doctoral Student Research Grant, The Graduate Center, CUNY, Summer 2018
Anthropology Department Summer Research Grant, The Graduate Center, CUNY, Summer 2018
Social Justice Project Award, New Media Lab, The Graduate Center, CUNY, June 2018
Provost's Digital Innovation Grant, The Graduate Center, CUNY, Summer 2016
Archie Malloch Internship Award, Institute for the Public Life of Arts and Ideas, McGill University, Summer 2012
Arts Research Internship Award, Faculty of Arts, McGill University, Summer 2011
A.S. Hill Entrance Scholarship, Faculty of Arts, McGill University, 2009 – 2010
---
Organizing
CUNY Adjunct Project
New York, NY
Coordinator for labor relations, Jan. 2016 – Sept. 2019
Association of McGill University Research Employees
Montreal, Quebec
Outreach coordinator, Jan. 2015 – Jul. 2015
Association of McGill University Support Employees
Montreal, Quebec
Outreach coordinator, Nov. 2013 – Jul. 2015
Association of McGill University Support Employees
Montreal, Quebec
Chair, Board of Representatives, Mar. 2011 – Mar. 2012
---
Design and Editing
Barricade – A Journal of Antifascism & Translation
New York, NY
Page Designer, 2021
HAU Journal of Ethnographic Theory and HAU Books
Chicago, IL
Editorial assistant – graphic and print design, Aug. 2014 – Oct. 2018
Fields/Terrains Journal of Anthropology
McGill University
Editor-in-chief, Sep. 2012 – Apr. 2013
The McGill Daily
Montreal, Quebec
Design and production editor, Sep. 2010 – Apr. 2011
---
Other Experience
The Committee on Globalization and Social Change
The Graduate Center, CUNY
Program Administrator, Aug. 2021 – Present
Daily Publications Society
Montreal, Quebec
Chair, Board of Directors, Sep. 2012 – Apr. 2013
Canadian Architecture Collection
McGill University
Special projects assistant, Jun. 2010 – Sep. 2011